Tai Chi is an enjoyable exercise that can improve balance, relieve pain, and improve health and ability to do things. It is a slow exercise. It is easy to learn and good for all ability levels. The essential principles of Tai Chi include mind and body integration, fluid movements, controlled breathing and mental concentration. Tai Chi is one of the most effective exercises for the health of mind and body. It helps people to relax and feel better.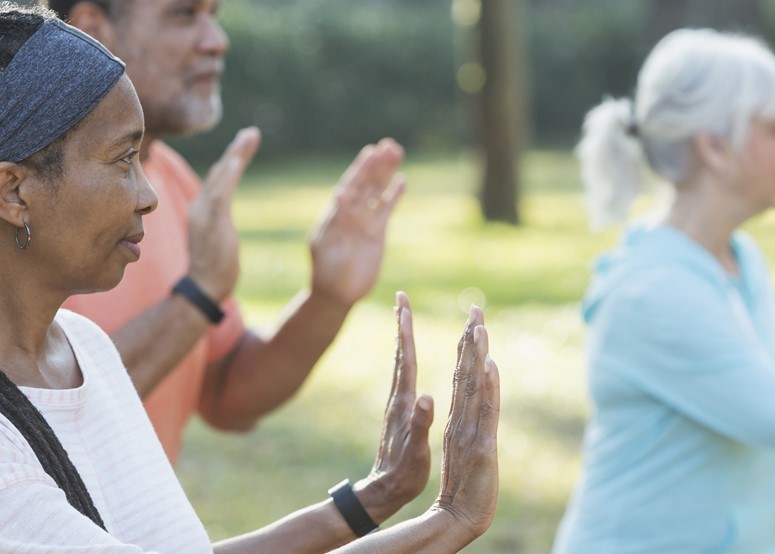 About the class
Tai Chi for Arthritis and Fall Prevention was developed by Dr. Paul Liam at the Tai Chi for Health Institute (TCHI). The program is led by a TCHI board certified instructor.
Length and timeframe of a workshop:
1 hour per week for 16 weeks OR twice per week for 8 weeks
meets face-to-face or online via Zoom (technical assistance is provided prior to the start of a workshop).
Each session includes the following:
Warm-up and cool down exercises
One or two movements per lesson
Breathing techniques
Tai Chi principles including those relating to improving physical and mental balance
Program Cost:
Each site has different payment structure. Click on "Find Classes" to find a local workshop for more information on fee's and class registration.
"Tai Chi has helped me with balance, coordination and focus. It is challenging enough to be interesting but not frustrating. There is no pain when I do the movements and it has helped decrease the pain in my knees from arthritis."
Benefits of the class
Improve balance, muscular strength, mobility, and flexibility
Improve psychological health
Decrease pain
Prevent falls
Build confidence and have fun
Who should take the class
The program is designed to benefit older adults:
With or without arthritis, rheumatic disease or related musculoskeletal conditions
With mild, moderate and severe joint involvement and back pain
Without arthritis who have a higher risk of falling
Are age 60 or older
Spouses, significant others, family members and friends are welcome to join!
All IL Pathways to Health Classes
Prevent Falls
Take Charge - Live Well
Caregiver Support